It's already November??? October has gone by so fast. Luckily for us there are some good books coming out this month! As usual, I'll sum my favourite releases up in this post.
---
RUINSONG BY JULIA EMBER
I absolutely love this cover??? Like it's so bright and purple and pretty. Not to mention it's a romantic LGBTQ+ fantasy where two young women from rival factions must work together to reunite their country, as they wrestle with their feelings for each other. Do I need to say more?
Synopsis
Her voice was her prison…
Now it's her weapon.
In a world where magic is sung, a powerful mage named Cadence has been forced to torture her country's disgraced nobility at her ruthless queen's bidding.
But when she is reunited with her childhood friend, a noblewoman with ties to the underground rebellion, she must finally make a choice: Take a stand to free their country from oppression, or follow in the queen's footsteps and become a monster herself.
---
INSTANT KARMA BY MARISSA MEYER
I loved all of Marissa Meyer's books, so I'm curious about this one. I don't read much contemporary but the synopsis of Instant Karma is quite interesting and I love the cover.
Synopsis
Chronic overachiever Prudence Daniels is always quick to cast judgment on the lazy, rude, and arrogant residents of her coastal town. Her dreams of karmic justice are fulfilled when, after a night out with her friends, she wakes up with the sudden ability to cast instant karma on those around her. Pru giddily makes use of the power, punishing everyone from public vandals to karaoke hecklers, but there is one person on whom her powers consistently backfire: Quint Erickson, her slacker of a lab partner and all-around mortal enemy. Soon, Pru begins to uncover truths about Quint, her peers, and even herself that reveal how thin the line is between virtue and vanity, generosity and greed . . . love and hate.
---
THESE VIOLENT DELIGHTS BY CHLOE GONG
The synopsis of These Violent Delights is everything. These Violent Delights is an imaginative Romeo and Juliet retelling set in 1920s Shanghai, with rival gangs and a monster in the depths of the Huangpu River. Like????? THAT'S SO COOL. I have an arc of this book, so I will try to read it this month. I also really love the cover. Very hyped about this one.
Synopsis
The year is 1926, and Shanghai hums to the tune of debauchery.
A blood feud between two gangs runs the streets red, leaving the city helpless in the grip of chaos. At the heart of it all is eighteen-year-old Juliette Cai, a former flapper who has returned to assume her role as the proud heir of the Scarlet Gang—a network of criminals far above the law. Their only rivals in power are the White Flowers, who have fought the Scarlets for generations. And behind every move is their heir, Roma Montagov, Juliette's first love…and first betrayal.
But when gangsters on both sides show signs of instability culminating in clawing their own throats out, the people start to whisper. Of a contagion, a madness. Of a monster in the shadows. As the deaths stack up, Juliette and Roma must set their guns—and grudges—aside and work together, for if they can't stop this mayhem, then there will be no city left for either to rule.
---
THE CAMELOT BETRAYAL (CAMELOT RISING #2) BY KIERSTEN WHITE
I loved the cover of the first book and love the cover of this one. I haven't read Camelot Rising yet, but I'm definitely planning on doing that in 2021.
Synopsis (possible spoilers for Camelot Rising)
EVERYTHING IS AS IT SHOULD BE IN CAMELOT: King Arthur is expanding his kingdom's influence with Queen Guinevere at his side. Yet every night, dreams of darkness and unknowable power plague her.
Guinevere might have accepted her role, but she still cannot find a place for herself in all of it. The closer she gets to Brangien, pining for her lost love Isolde, Lancelot, fighting to prove her worth as Queen's knight, and Arthur, everything to everyone and thus never quite enough for Guinevere–the more she realizes how empty she is. She has no sense of who she truly was before she was Guinevere. The more she tries to claim herself as queen, the more she wonders if Mordred was right: she doesn't belong. She never will.
When a rescue goes awry and results in the death of something precious, a devastated Guinevere returns to Camelot to find the greatest threat yet has arrived. Not in the form of the Dark Queen or an invading army, but in the form of the real Guinevere's younger sister. Is her deception at an end? And who is she really deceiving–Camelot, or herself?
---
THE EVER CRUEL KINGDOM (THE NEVER TILTING WORLD #2) BY RIN CHUPECO
Same with this one, I haven't read the first book but probably will in 2021. Love the cover a lot.
Synopsis (possible spoilers for The Never Tilting World)
After a treacherous journey and a life-shattering meeting with a twin neither knew they had, Haidee and Odessa expected to emerge from the Great Abyss to a world set right. But though the planet is turning once again, the creatures of the abyss will not rest until they have tasted another goddess's sacrifice.

To break the cycle, Haidee and Odessa need answers that lie beyond the seven gates of the underworld, within the Cruel Kingdom itself. The shadows of the underworld may hunger to tear them apart, but these two sisters are determined to heal their world—together.
---
SUPER FAKE LOVE SONG BY DAVID YOON
I have an arc for this book which I sadly won't be reading this month because I don't have enough time. I really like the cover and I'm intrigued by the blurb.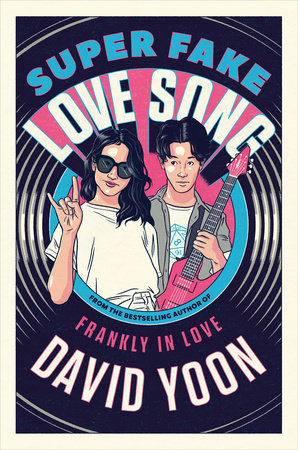 Synopsis
When Sunny Dae—self-proclaimed total nerd—meets Cirrus Soh, he can't believe how cool and confident she is. So when Cirrus mistakes Sunny's older brother Gray's bedroom—with its electric guitars and rock posters—for Sunny's own, he sort of, kind of, accidentally winds up telling her he's the front man of a rock band.
Before he knows it, Sunny is knee-deep in the lie: He ropes his best friends into his scheme, begging them to form a fake band with him, and starts wearing Gray's rock-and-roll castoffs. But no way can he trick this amazing girl into thinking he's cool, right? Just when Sunny is about to come clean, Cirrus asks to see them play sometime. Gulp.
Now there's only one thing to do: Fake it till you make it.
Sunny goes all in on the lie, and pretty soon, the strangest things start happening. People are noticing him in the hallways, and he's going to football games and parties for the first time. He's feeling more confident in every aspect of his life, and especially with Cirrus, who's started to become not just his dream girl but also the real deal. Sunny is falling in love. He's having fun. He's even becoming a rocker, for real.
But it's only a matter of time before Sunny's house of cards starts tumbling down. As his lies begin to catch up with him, Sunny Dae is forced to wonder whether it was all worth it—and if it's possible to ever truly change.
---
REBEL ROSE BY EMMA THERIAULT
It's a Beauty and the Beast retelling and I love a good retelling.
Synopsis
Happily ever after is only the beginning as Belle takes on the responsibility of becoming queen and learns to balance duty, love, and sacrifice, all while navigating dark political intrigue—and a touch of magic.
It's 1789 and France is on the brink of revolution. Belle has finally broken the Enchantress's curse, restoring the Beast to his human form and bringing life back to their castle in the province of Aveyon. But in Paris, the fires of change are burning, and it's only a matter of time before the rebellion arrives on their doorstep.
Not so very long ago, Belle dreamed of leaving her provincial home for a life of adventure. But now she finds herself living in a palace, torn between her past as a commoner, and her future as royalty. While Belle grapples with her newfound position, there are those who would do anything to keep her from power.
When she stumbles across a magic mirror that holds a dire warning, Belle wants nothing more than to ignore the mysterious voice calling her to accept a crown she never desired. But violent factions of the revolution may already be lurking within her own castle, and doing nothing would endanger everything she holds dear. With the fate of her country, her love, and her life at stake, Belle must decide if she is ready to embrace her own strength–and the magic that ties her to so many female rulers before her–to become the queen she is meant to be.
Rebel Rose is the first in the Queen's Council series, an empowering fairy tale reimagining of the Disney Princesses-and the real history behind their stories-like you've never seen before.
---
HOW THE KING OF ELFHAME LEARNED TO HATE STORIES (THE FOLK OF THE AIR #3,5) BY HOLLY BLACK
I can't help it, I just love this series.
Synopsis
An irresistible return to the captivating world of Elfhame.
Once upon a time, there was a boy with a wicked tongue.
Before he was a cruel prince or a wicked king, he was a faerie child with a heart of stone . #1 New York Times bestselling author, Holly Black reveals a deeper look into the dramatic life of Elfhame's enigmatic high king, Cardan. This tale includes delicious details of life before The Cruel Prince, an adventure beyond The Queen of Nothing, and familiar moments from The Folk of the Air trilogy, told wholly from Cardan's perspective.
---
THE RAVENS BY KASS MORGAN AND DANIELLE PAIGE
This book looks interesting however I really want to take a break from paranormal books. I probably won't be reading this one in the near future.
Synopsis
Kappa Rho Nu isn't your average sorority. Their parties are notorious. Their fundraisers are known for being Westerly College's most elaborate affairs. But beneath the veil of Greek life and prestige, the sisters of Kappu Rho Nu share a secret: they're a coven of witches. For Vivi Deveraux, being one of Kappa Rho Nu's Ravens means getting a chance to redefine herself. For Scarlett Winters, a bonafide Raven and daughter of a legacy Raven, pledge this year means living up to her mother's impossible expectations of becoming Kappa Rho Nu's next president. Scarlett knows she'd be the perfect candidate — that is, if she didn't have one human-sized skeleton in her closet…. When Vivi and Scarlett are paired as big and little for initiation, they find themselves sinking into the sinister world of blood oaths and betrayals.
---
Which book are you looking forward to? Let me know in the comments!