Hello book loves! How are you all doing today? I hope everyone had good holidays. In this post I'll explore my favourite books I read in 2020. I read 72 books this year, so I will have a hard time picking 5 books. I also feel like I read a lot of books I liked. After finishing a book, my 'love' for it is usually much higher so if I read the book in March, I probably don't remember how much I actually enjoyed it. But here are 5 books I did enjoy. Keep reading to find out which books I really liked.
---
5. Kingdom of the Wicked by Kerri Maniscalco
On number 5 we have Kingdom of the Wicked. I finished this book in a couple of days and really enjoyed it. The atmosphere in this book was amazing. I loved the characters and the whole Sicilian culture. I am Italian/Sicilian (my mom's from Italy/Sicily), so it was really fun to read about all the typical Italian elements that I recognize from my personal life. The ending did feel a bit rushed and was quite predicable but overall I really enjoyed this book!
Synopsis
Two sisters.
One brutal murder.
A quest for vengeance that will unleash Hell itself…
And an intoxicating romance.
Emilia and her twin sister Vittoria are streghe – witches who live secretly among humans, avoiding notice and persecution. One night, Vittoria misses dinner service at the family's renowned Sicilian restaurant. Emilia soon finds the body of her beloved twin…desecrated beyond belief. Devastated, Emilia sets out to find her sister's killer and to seek vengeance at any cost-even if it means using dark magic that's been long forbidden.
Then Emilia meets Wrath, one of the Wicked-princes of Hell she has been warned against in tales since she was a child. Wrath claims to be on Emilia's side, tasked by his master with solving the series of women's murders on the island. But when it comes to the Wicked, nothing is as it seems…
---
4. Seven Devils by Laura Lam and Elizabeth May
Seven Devils is a fast-paced and adventurous book about strong feminist women who are trying to save the galaxy. The novel is full of great characters that have depth to them and feel very honest and real. The plot is unique and the world-building is phenomenal. Overall a wonderful book and VERY queer!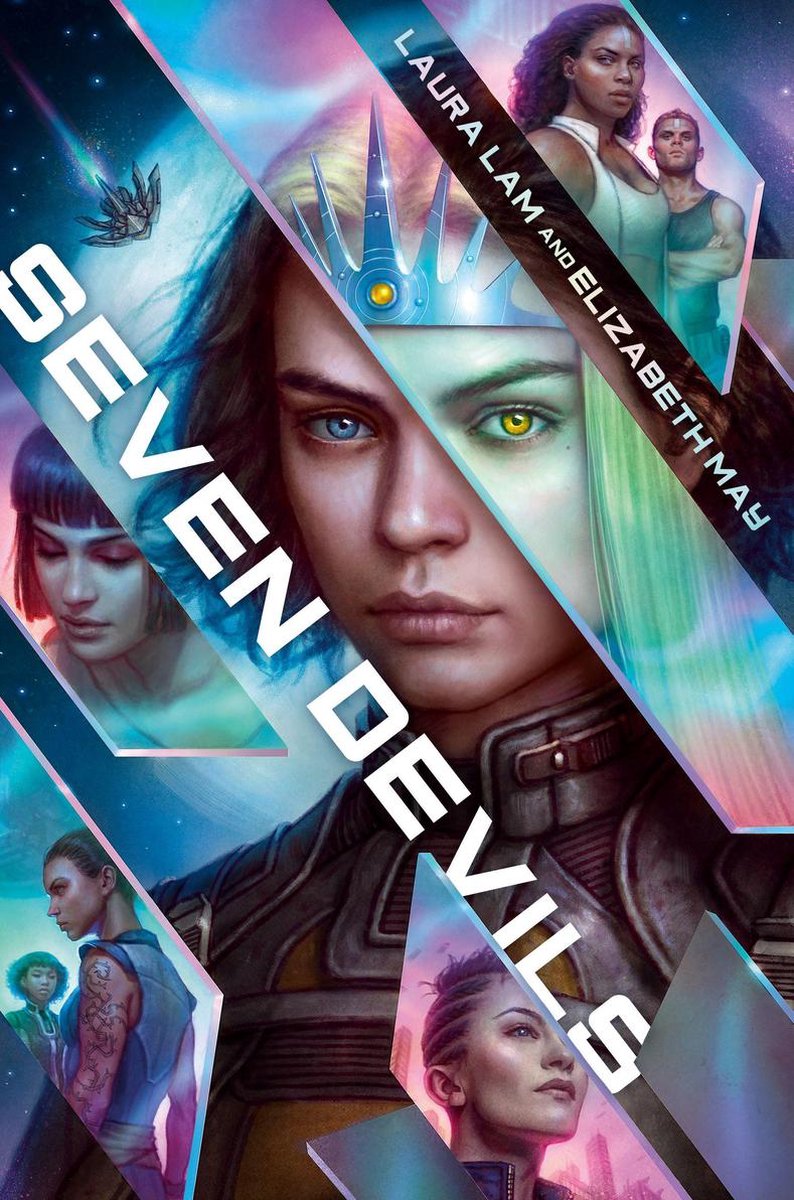 Synopsis
This first book in a feminist space opera duology follows seven resistance fighters who will free the galaxy from the ruthless Tholosian Empire — or die trying.

When Eris faked her death, she thought she had left her old life as the heir to the galaxy's most ruthless empire behind. But her recruitment by the Novantaen Resistance, an organization opposed to the empire's voracious expansion, throws her right back into the fray.

Eris has been assigned a new mission: to infiltrate a spaceship ferrying deadly cargo and return the intelligence gathered to the Resistance. But her partner for the mission, mechanic and hotshot pilot Cloelia, bears an old grudge against Eris, making an already difficult infiltration even more complicated.

When they find the ship, they discover more than they bargained for: three fugitives with firsthand knowledge of the corrupt empire's inner workings.

Together, these women possess the knowledge and capabilities to bring the empire to its knees. But the clock is ticking: the new heir to the empire plans to disrupt a peace summit with the only remaining alien empire, ensuring the empire's continued expansion. If they can find a way to stop him, they will save the galaxy. If they can't, millions may die.
3. The Dragon Republic by R.F. Kuang
I listened to the audiobook of The Dragon Republic and absolutely loved it. I also enjoyed the first book in this series – The Poppy War – but liked The Dragon Republic better. The only thing I would say is that these are some big boys. Like the audiobook is 24 hours, which is quite a lot. It's sometimes hard to remember what happened especially since I listen to the audiobook in the evening before going to bed. I often fall asleep before my timer runs out, so I tend to miss a bit of the story. Definitely would recommend this book!
Synopsis (beware!!! spoilers for The Poppy War)
In the aftermath of the Third Poppy War, shaman and warrior Rin is on the run: haunted by the atrocity she committed to end the war, addicted to opium, and hiding from the murderous commands of her vengeful god, the fiery Phoenix. Her only reason for living is to get revenge on the traitorous Empress who sold out Nikan to their enemies.
With no other options, Rin joins forces with the powerful Dragon Warlord, who has a plan to conquer Nikan, unseat the Empress, and create a new Republic. Rin throws herself into his war. After all, making war is all she knows how to do.
But the Empress is a more powerful foe than she appears, and the Dragon Warlord's motivations are not as democratic as they seem. The more Rin learns, the more she fears her love for Nikan will drive her away from every ally and lead her to rely more and more on the Phoenix's deadly power. Because there is nothing she won't sacrifice for her country and her vengeance
The sequel to R.F. Kuang's acclaimed debut THE POPPY WAR, THE DRAGON REPUBLIC combines the history of 20th-century China with a gripping world of gods and monsters, to devastating effect.
2. Cemetery Boys by Aiden Thomas
Of course Cemetery Boys is in my top 5, how could it not? This book is a rollercoaster so be prepared to feel all the feelings. I loved the plot of Cemetery Boys a lot. It's full of twists. I love the quest Yads and Julian embark upon together. The story is full of suspense, action and humor. Julian is such a funny character. I found myself smiling more then once while listening to this audiobook. These characters are so fun and lovely, and I absolutely adored the chemistry between Yadriel and Julian.
Synopsis
A trans boy determined to prove his gender to his traditional Latinx family summons a ghost who refuses to leave in Aiden Thomas's paranormal YA debut Cemetery Boys, described by Entertainment Weekly as "groundbreaking."

Yadriel has summoned a ghost, and now he can't get rid of him.

When his traditional Latinx family has problems accepting his true gender, Yadriel becomes determined to prove himself a real brujo. With the help of his cousin and best friend Maritza, he performs the ritual himself, and then sets out to find the ghost of his murdered cousin and set it free.

However, the ghost he summons is actually Julian Diaz, the school's resident bad boy, and Julian is not about to go quietly into death. He's determined to find out what happened and tie off some loose ends before he leaves. Left with no choice, Yadriel agrees to help Julian, so that they can both get what they want. But the longer Yadriel spends with Julian, the less he wants to let him leave.
1. The Wicked King by Holly Black
My favourite read of the year was The Wicked King by Holly Black. I feel a bit basic saying this is my fave read of the year, but I just can't help it. I really enjoyed this damn book! In the exciting sequel to The Cruel Prince, we delve deeper into the dark world of Elfhame and get to know Jude and Cardan better. The Wicked King is full of action, drama and betrayal. I really like Jude as a character. She's such a stubborn girl, but has a good heart. She trusts people too quickly, which can sometimes have disastrous consequences. Cardan is such a complex, but fun character. In The Wicked King, Holly Black gives the reader a closer look in his childhood. We get to know him in a different way.
Synopsis (beware!!! spoilers for The Cruel Prince)
You must be strong enough to strike and strike and strike again without tiring.

The first lesson is to make yourself strong.
After the jaw-dropping revelation that Oak is the heir to Faerie, Jude must keep her brother safe. To do so, she has bound the wicked king, Cardan, to her, and made herself the power behind the throne. Navigating the constantly shifting political alliances of Faerie would be difficult enough if Cardan were easy to control. But he does everything in his power to humiliate and undermine her even as his fascination with her remains undiminished.
When it becomes all too clear that someone close to Jude means to betray her, threatening her own life and the lives of everyone she loves, Jude must uncover the traitor and fight her own complicated feelings for Cardan to maintain control as a mortal in a Faerie world.
---
What was your favourite read of the year? Let me know in the comments!