Hello book loves! How are you all doing? There are some exciting books being released this month and I honestly want to read all of them. As usual, I'll sum my favourite releases up in this post! There are of course some famous books (Chain of Iron and Rule of Wolves) that I didn't include, that's because these are sequels and I haven't read the first book in these series yet, and I'm not planning on reading them anytime soon!
Sweet & bitter magic by adrienne tooley
I am joining the book tour hosted by TBR and Beyond Tours and I'm so excited. I absolutely love this cover and really hope I'll love the story as well.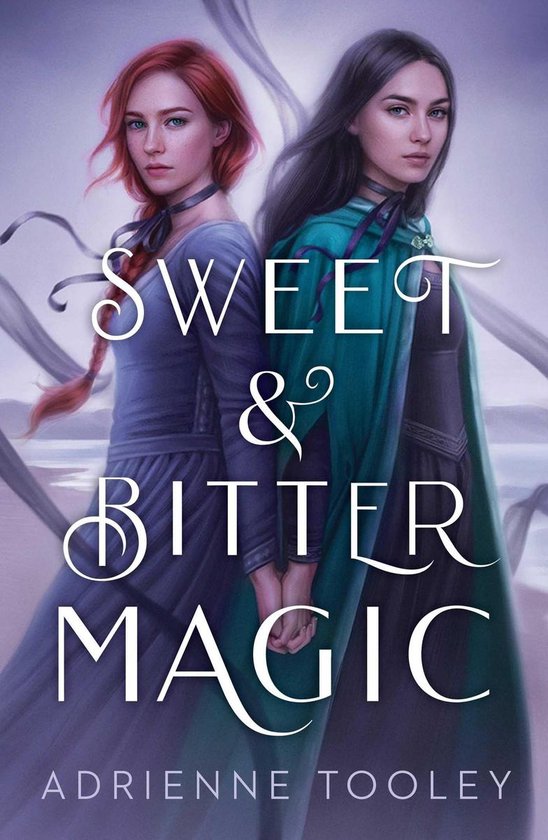 Synopsis
Tamsin is the most powerful witch of her generation. But after committing the worst magical sin, she's exiled by the ruling Coven and cursed with the inability to love. The only way she can get those feelings back—even for just a little while—is to steal love from others.
Wren is a source—a rare kind of person who is made of magic, despite being unable to use it herself. Sources are required to train with the Coven as soon as they discover their abilities, but Wren—the only caretaker to her ailing father—has spent her life hiding her secret.
When a magical plague ravages the queendom, Wren's father falls victim. To save him, Wren proposes a bargain: if Tamsin will help her catch the dark witch responsible for creating the plague, then Wren will give Tamsin her love for her father.
Of course, love bargains are a tricky thing, and these two have a long, perilous journey ahead of them—that is, if they don't kill each other first…
---
FireKeeper's Daughter by Angeline Boulley
The synopsis for this book sounds amazing. The reviews so far are very good, so I'm definitely checking this one out!
Synopsis
As a biracial, unenrolled tribal member and the product of a scandal, eighteen-year-old Daunis Fontaine has never quite fit in, both in her hometown and on the nearby Ojibwe reservation. Daunis dreams of studying medicine, but when her family is struck by tragedy, she puts her future on hold to care for her fragile mother.
The only bright spot is meeting Jamie, the charming new recruit on her brother Levi's hockey team. Yet even as Daunis falls for Jamie, certain details don't add up and she senses the dashing hockey star is hiding something. Everything comes to light when Daunis witnesses a shocking murder, thrusting her into the heart of a criminal investigation.
Reluctantly, Daunis agrees to go undercover, but secretly pursues her own investigation, tracking down the criminals with her knowledge of chemistry and traditional medicine. But the deceptions—and deaths—keep piling up and soon the threat strikes too close to home.
Now, Daunis must learn what it means to be a strong Anishinaabe kwe (Ojibwe woman) and how far she'll go to protect her community, even if it tears apart the only world she's ever known.
---
Red Tigress (Blood Heir trilogy #2) by Amélie Wen Zhao
I haven't read the first book in this series yet, but I really want to! I have seen the authors Instagram videos and she's really funny. In one of her videos I saw that she mentioned that one of her characters is morally grey and I love morally grey characters so much! Can't wait to start this series. Also this cover is gorgeous.
Synopsis (possible spoilers for the previous books in this series)
Ana Mikhailov is the only surviving member of the royal family of Cyrilia. She has no army, no title, and no allies, and now she must find a way to take back the throne or risk the brutal retribution of the empress. Morganya is determined to establish a new world order on the spilled blood of non-Affinites. Ana is certain that Morganya won't stop until she kills them all.
Ana's only chance at navigating the dangerous world of her homeland means partnering with Ramson Quicktongue again. But the cunning crime lord has schemes of his own. For Ana to find an army, they must cross the Whitewaves to the impenetrable stone forts of Bregon. Only, no one can be certain what they will find there.
A dark power has risen. Will revolution bring peace–or will it only paint the streets in more blood.
---
A Trial of Sorcerers by Elise Kova
I mean have you read the blurb?
Synopsis
Ice is in her blood.
Eighteen-year-old Waterrunner Eira Landan lives her life in the shadows — the shadow of her older brother, of her magic's whispers, and of the person she accidentally killed. She's the most unwanted apprentice in the Tower of Sorcerers until the day she decides to step out and compete for a spot in the Tournament of Five Kingdoms.
Pitted against the best sorcerers in the Empire, Eira fights to be one of four champions. Excelling in the trials has its rewards. She's invited to the royal court with the "Prince of the Tower," discovers her rare talent for forbidden magic, and at midnight, Eira meets with a handsome elfin ambassador.
But, Eira soon learns, no reward is without risk. As she comes into the spotlight, so too do the skeletons of a past she hadn't even realized was haunting her.
Eira went into the trials ready for a fight. Ready to win. She wasn't ready for what it would cost her. No one expected the candidates might not make it out with their lives.
---
I Think I love You by Auriane Desombre
Once again, I love this cover and the synopsis is so cute. This seems like a light and fluffy read.
Synopsis
Emma is a die-hard romantic. She loves a meet-cute Netflix movie, her pet, Lady Catulet, and dreaming up the Gay Rom Com of her heart for the film festival competition she and her friends are entering. If only they'd listen to her ideas. . .
Sophia is pragmatic. She's big into boycotts, namely 1) relationships, 2) teen boys and their BO (reason #2347683 she's a lesbian), and 3) Emma's nauseating ideas. Forget starry-eyed romance, Sophia knows what will win: an artistic film with a message.
Cue the drama. The movie is doomed before they even start shooting . . . until a real-life plot twist unfolds behind the camera when Emma and Sophia start seeing each other through a different lens. Suddenly their rivalry is starting to feel like an actual rom-com.
---
Yolk by Mary H.K. Choi
Is it just me or is this cover gorgeous? Also, I'm really interested in the whole sister-swap thing this book has going on.
Synopsis
A funny and emotional story about two estranged sisters switching places and committing insurance fraud to save one of their lives.
Jayne Baek is barely getting by. She shuffles through fashion school, saddled with a deadbeat boyfriend, clout-chasing friends, and a wretched eating disorder that she's not fully ready to confront. But that's New York City, right? At least she isn't in Texas anymore, and is finally living in a city that feels right for her.
On the other hand, her sister June is dazzlingly rich with a high-flying finance job and a massive apartment. Unlike Jayne, June has never struggled a day in her life. Until she's diagnosed with uterine cancer.
Suddenly, these estranged sisters who have nothing in common are living together. Because sisterly obligations are kind of important when one of you is dying.
---
Odin's Child by Siri Pettersen
I've come across this book so many times I've lost count and now my interest is peaked.
Synopsis
15-year-old Hirka has always been an outsider in the world of Ym: she's the only person without a tail, and the only one unable to access the Might, a current of power that runs through the earth.
Her differences become more and more of a concern as the date approaches for the Rite—the ceremony where everyone is to be blessed by the all-knowing Seer and the Council of powerful families who rule in His name. With only a few weeks until the Rite, Hirka discovers the shocking secret behind why she is tailless and Mightless: she is not from this world. As an infant, she was brought through an ancient stone circle known as a Raven Ring, and as long as she's in Ym, the passageway between worlds remains open inviting terrifying creatures called the blind to follow.
No one can know the truth of Hirka's identity, especially
not Rime, her childhood friend who just might become something more. But is Rime is hiding secrets of his own?
---
Lost in the Never Woods by Aiden Thomas
So I absolutely loved Cemetery Boys and Aiden Thomas has become one of my fave authors. I definitely want to read this book! Also, Peter Pan retelling hello!!!
Synopsis
It's been five years since Wendy and her two brothers went missing in the woods, but when the town's children start to disappear, the questions surrounding her brothers' mysterious circumstances are brought back into light. Attempting to flee her past, Wendy almost runs over an unconscious boy lying in the middle of the road, and gets pulled into the mystery haunting the town.
Peter, a boy she thought lived only in her stories, claims that if they don't do something, the missing children will meet the same fate as her brothers. In order to find them and rescue the missing kids, Wendy must confront what's waiting for her in the woods.
---
🖤 Which one are you excited for? Let me know in the comments 🖤