2021 is the year of sapphic releases and I'm living for it. This post is inspired by althea's post on sapphic recommendations with fat rep. Be sure to check their post out here: Sapphic Recommendations #4 – Fat Rep. I will be leaving the Goodreads link and Blackwell's link below the synopsis of the book.
(ps. i am a Blackwell's affiliate!)
---
1. The Jasmine Throne (Burning Kingdoms #1) by

Tasha Suri
Author of Empire of Sand and Realm of Ash Tasha Suri's The Jasmine Throne, beginning a new trilogy set in a world inspired by the history and epics of India, in which a captive princess and a maidservant in possession of forbidden magic become unlikely allies on a dark journey to save their empire from the princess's traitor brother.
Imprisoned by her dictator brother, Malini spends her days in isolation in the Hirana: an ancient temple that was once the source of the powerful, magical deathless waters — but is now little more than a decaying ruin.
Priya is a maidservant, one among several who make the treacherous journey to the top of the Hirana every night to clean Malini's chambers. She is happy to be an anonymous drudge, so long as it keeps anyone from guessing the dangerous secret she hides.
But when Malini accidentally bears witness to Priya's true nature, their destinies become irrevocably tangled. One is a vengeful princess seeking to depose her brother from his throne. The other is a priestess seeking to find her family. Together, they will change the fate of an empire.
---
Two girls on opposite sides of a war discover they're fighting for a common purpose–and falling for each other–in Zoe Hana Mikuta's high-octane debut Gearbreakers, perfect for fans of Pacific Rim, Pierce Brown's Red Rising Saga, and Marie Lu's Legend series.
We went past praying to deities and started to build them instead...
The shadow of Godolia's tyrannical rule is spreading, aided by their giant mechanized weapons known as Windups. War and oppression are everyday constants for the people of the Badlands, who live under the thumb of their cruel Godolia overlords.
Eris Shindanai is a Gearbreaker, a brash young rebel who specializes in taking down Windups from the inside. When one of her missions goes awry and she finds herself in a Godolia prison, Eris meets Sona Steelcrest, a cybernetically enhanced Windup pilot. At first Eris sees Sona as her mortal enemy, but Sona has a secret: She has intentionally infiltrated the Windup program to destroy Godolia from within.
As the clock ticks down to their deadliest mission yet, a direct attack to end Godolia's reign once and for all, Eris and Sona grow closer–as comrades, friends, and perhaps something more…
---
From the New York Times bestselling author of Red, White & Royal Blue comes a new romantic comedy that puts a queer spin on Kate & Leopold.

A 23-year-old realises her subway crush is displaced from 1970's Brooklyn, and she must do everything in her power to help her – and try not to fall in love with the girl lost in time – before it's too late . . .
---
4. A Lesson in Vengeance by Victoria Lee
For fans of Wilder Girls and Ninth House comes a dark, twisty, atmospheric thriller about a boarding school haunted by its history of witchcraft and two girls dangerously close to digging up the past.
Felicity Morrow is back at Dalloway School.
Perched in the Catskill mountains, the centuries-old, ivy-covered campus was home until the tragic death of her girlfriend. Now, after a year away, she's returned to graduate. She even has her old room in Godwin House, the exclusive dormitory rumored to be haunted by the spirits of five Dalloway students—girls some say were witches. The Dalloway Five all died mysteriously, one after another, right on Godwin grounds.
Witchcraft is woven into Dalloway's history. The school doesn't talk about it, but the students do. In secret rooms and shadowy corners, girls convene. And before her girlfriend died, Felicity was drawn to the dark. She's determined to leave that behind her now; all Felicity wants is to focus on her senior thesis and graduate. But it's hard when Dalloway's occult history is everywhere. And when the new girl won't let her forget.
It's Ellis Haley's first year at Dalloway, and she's already amassed a loyal following. A prodigy novelist at seventeen, Ellis is a so-called "method writer." She's eccentric and brilliant, and Felicity can't shake the pull she feels to her. So when Ellis asks Felicity for help researching the Dalloway Five for her second book, Felicity can't say no. Given her history with the arcane, Felicity is the perfect resource.
And when history begins to repeat itself, Felicity will have to face the darkness in Dalloway–and in herself.
---
In this YA contemporary queer romance from the author of Hot Dog Girl , an openly gay track star falls for a closeted, bisexual teen beauty queen with a penchant for fixing up old cars.
Morgan, an elite track athlete, is forced to transfer high schools late in her senior year after it turns out being queer is against her private Catholic school's code of conduct. There, she meets Ruby, who has two hobbies: tinkering with her baby blue 1970 Ford Torino and competing in local beauty pageants, the latter to live out the dreams of her overbearing mother. The two are drawn to each other and can't deny their growing feelings. But while Morgan–out and proud, and determined to have a fresh start–doesn't want to have to keep their budding relationship a secret, Ruby isn't ready to come out yet. With each girl on a different path toward living her truth, can they go the distance together?
---
From award-winning author Sarah Pinsker comes a novel about one family and the technology that divides them.

Everybody's getting one.
Val and Julie just want what's best for their kids, David and Sophie. So when teenage son David comes home one day asking for a Pilot, a new brain implant to help with school, they reluctantly agree. This is the future, after all.
Soon, Julie feels mounting pressure at work to get a Pilot to keep pace with her colleagues, leaving Val and Sophie part of the shrinking minority of people without the device.
Before long, the implications are clear, for the family and society: get a Pilot or get left behind. With government subsidies and no downside, why would anyone refuse? And how do you stop a technology once it's everywhere? Those are the questions Sophie and her anti-Pilot movement rise up to answer, even if it puts them up against the Pilot's powerful manufacturer and pits Sophie against the people she loves most.
---
7. Last Night at the Telegraph Club by Malinda Lo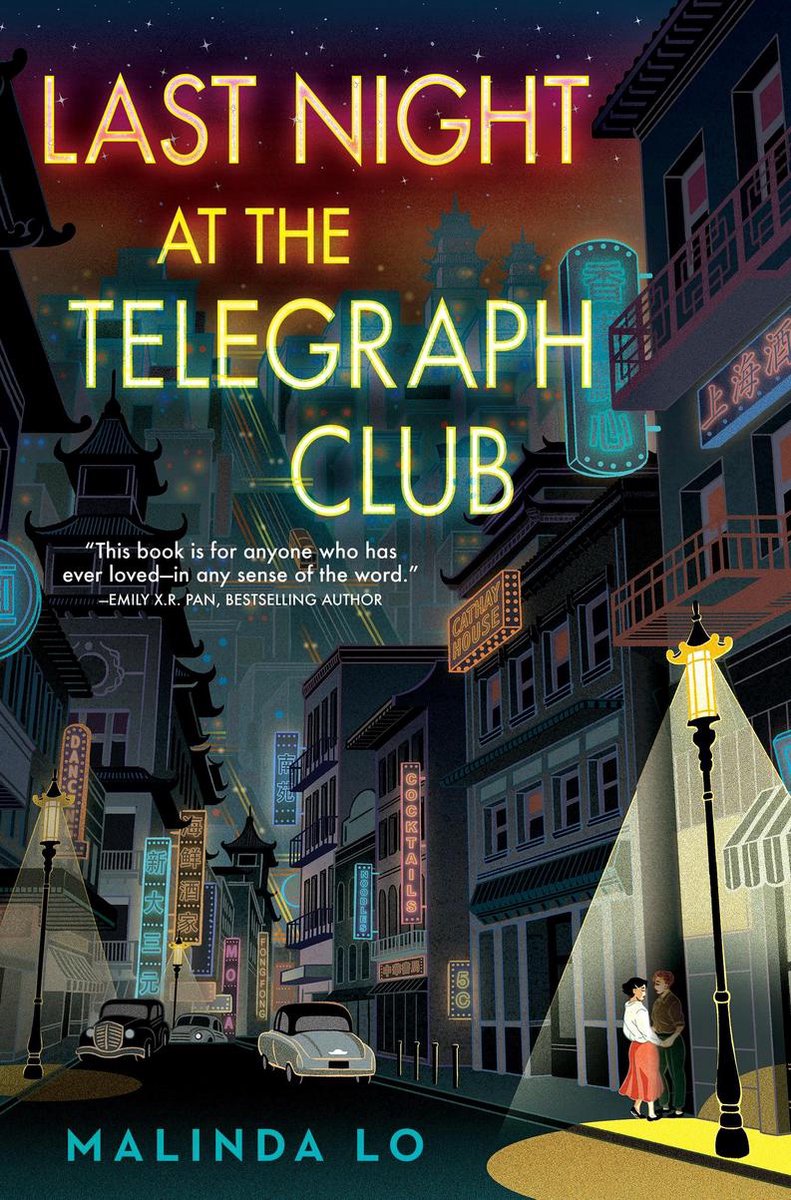 Acclaimed author of Ash Malinda Lo returns with her most personal and ambitious novel yet, a gripping story of love and duty set in San Francisco's Chinatown during the Red Scare.
"That book. It was about two women, and they fell in love with each other." And then Lily asked the question that had taken root in her, that was even now unfurling its leaves and demanding to be shown the sun: "Have you ever heard of such a thing?"
Seventeen-year-old Lily Hu can't remember exactly when the question took root, but the answer was in full bloom the moment she and Kathleen Miller walked under the flashing neon sign of a lesbian bar called the Telegraph Club.
America in 1954 is not a safe place for two girls to fall in love, especially not in Chinatown. Red-Scare paranoia threatens everyone, including Chinese Americans like Lily. With deportation looming over her father—despite his hard-won citizenship—Lily and Kath risk everything to let their love see the light of day.
---
8. Love and Other Natural Disasters by Misa Sugiura
When Nozomi Nagai pictured the ideal summer romance, a fake one wasn't what she had in mind.

That was before she met the perfect girl. Willow is gorgeous, glamorous, and…heartbroken? And when she enlists Nozomi to pose as her new girlfriend to make her ex jealous, Nozomi is a willing volunteer.

Because Nozomi has a master plan of her own: one to show Willow she's better than a stand-in, and turn their fauxmance into something real. But as the lies pile up, it's not long before Nozomi's schemes take a turn toward disaster…and maybe a chance at love she didn't plan for.
---
A princess isn't supposed to fall for an evil sorceress. But in this darkly magical retelling of "Sleeping Beauty," true love is more than a simple fairy tale.
Once upon a time, there was a wicked fairy who, in an act of vengeance, cursed a line of princesses to die. A curse that could only be broken by true love's kiss.
You've heard this before, haven't you? The handsome prince. The happily-ever-after.
Utter nonsense.
Let me tell you, no one in Briar actually cares about what happens to its princesses. Not the way they care about their jewels and elaborate parties and charm-granting elixirs. I thought I didn't care, either.
Until I met her.
Princess Aurora. The last heir to Briar's throne. Kind. Gracious. The future queen her realm needs. One who isn't bothered that I am Alyce, the Dark Grace, abhorred and feared for the mysterious dark magic that runs in my veins. Humiliated and shamed by the same nobles who pay me to bottle hexes and then brand me a monster. Aurora says I should be proud of my gifts. That she . . . cares for me. Even though it was a power like mine that was responsible for her curse.
---
Which sapphic book are you looking forward to? Let me know in the comments!